Nella giornata di ieri HTC ha pubblicato sul sito Word Wide Web ( sito internazionale della casa taiwanese ) le specifiche e un quick tour del nuovo terminale HTC Touch2. Questo terminale dovrebbe arrivare sugli scaffali il 6 ottobre in concomitanza con l'arrivo di Windows Mobile 6.5, di cui è prevista la diffusione proprio il giorno stesso.
A tutti gli effetti l'HTC Touch2 diventerà il primo Windows Phone in circolazione sul mercato. Vi ricordo che Microsoft ha deciso di attribuire il nome di "Windows Phone" a tutti i terminali dotati di sistema operativo Windows Mobile 6.5. Con questo termine Microsoft punta a sottolineare le novità nel campo dell'interfaccia utente, che diventerà più finger-frindly, e la miglior predisposizione per la navigazione Web. Inoltre saranno garantiti servizi come Marketplace e Microsoft MyPhone ( di cui ho parlato approfonditamente in questo post ) ).
Le novità sostanziali in questo terminale saranno l'adozione della nuova interfaccia grafica Manila ( nella versione 2.6 sembrerebbe ) e l'integrazione con la tecnologia Flash, un punto sempre dolente per i terminali Windows Mobile.
Dal punto di vista del design invece non sembrano esserci grandi novità, troviamo infatti un display da 2,8" accoppiato con la classica zoombar, già presente nei modelli Diamond2 e Pro2. Troviamo invece il comodo connettore jack da 3,5, mentre come "tradizione HTC" non c'è traccia del flash led.
A mio parere il terminale dovrebbe piazzarsi in una categoria entry-level, quindi anche il costo dovrebbe essere focalizzato attorno ai 300-350€.
A questa pagina è disponibile una prima overview del prodotto, mentre qui troverete tutte le specifiche tecniche.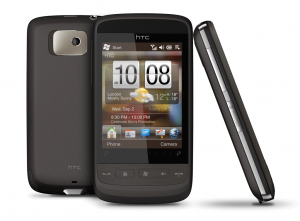 Vi riporto il comunicato stampa ufficiale HTC:
NEW HTC TOUCH2™ SMARTPHONE DELIVERS FULL TOUCH EXPERIENCE

With new Windows phone software, HTC Touch2 delivers a simple and smart experience that makes it easier to stay in touch with the people and information in your life

TAIWAN – SEPTEMBER 2nd, 2009 – HTC Corporation today introduced the HTC Touch2™, a compact and stylish smartphone that is one of the first mobile phones to include Microsoft's new Windows Phone software. Utilizing Windows Mobile 6.5 and new Windows Phone services like My Phone and Windows Marketplace, HTC Touch2 delivers a full touch experience that enables you to do all the things you want on your phone easily. The Touch2 expands HTC's portfolio of touch-based phones and is focused on delivering an advanced touch experience to a broader group of people.
"The HTC Touch2 delivers a familiar touch experience that millions of people have come to expect and rely on from HTC in their daily lives," said Peter Chou, Chief Executive Officer, HTC Corporation. "Whether it's making a call, checking in with a friend or simply responding to an important email, the HTC Touch2 puts you in touch and in control."
The HTC Touch2 ensures that everything is at your fingertips in a compact design that fits comfortably in your hand. An advanced smartphone with everything you expect and more, the HTC Touch2 includes a variety of HTC enhancements including TouchFLO, an enhanced user interface that includes integrated weather updates and quick touch access to a variety of the most popular applications. In addition, the Touch2 includes Google Maps for Mobile, YouTube and more.

As a new Windows phone, the HTC Touch2 showcases the powerful messaging, browsing and productivity capabilities delivered by the new Windows Mobile 6.5. Offering a best in class e-mail experience complete with the ability to synchronize with Microsoft Exchange, you have the ability to check and manage multiple email accounts.

With the Re-designed Internet Explorer Mobile, the Touch2 accurately displays desktop style Web pages, allowing people to experience content in the way it is meant to be viewed. The HTC Touch2 includes a zoom bar for reflowing text to an optimum size. In addition, you can pan and zoom to find and enjoy what you are looking for more easily. Internet Explorer-Mobile also supports Adobe Flash, enabling Flash video content, like YouTube, to be viewed easily.
With Windows phone you can now easily find and download a wide variety of applications onto the HTC Touch2 via the new Windows Marketplace for Mobile. Microsoft's new My Phone service enables you to automatically back up and synch photos, music, contacts and text messages for free from the Touch2 to the web.

Availability
The HTC Touch2 will initially be available to customers on October 6 with broad availability in a variety of European and Asian markets in early Q4 2009.

About HTC
HTC Corporation (HTC) is one of the fastest growing companies in the mobile phone industry and continues to pioneer industry-leading mobile experiences through design, usability and innovation that is sparked by how the mobile phone can improve how people live and communicate. The company is listed on the Taiwan Stock Exchange under ticker 2498. For more information about HTC, please visit www.htc.com.