CodeSector offre gratuitamente TeraCopy, un software che ci permette di aumentare l'efficienza durante le fasi ci copia/taglia/incolla. Ed ecco cosa offre:
Copy files faster. TeraCopy uses dynamically adjusted buffers to reduce seek times. Asynchronous copy speeds up file transfer between two physical hard drives.
Pause and resume file transfers. Pause copy process at any time to free up system resources and continue with a single click.
Error recovery. In case of copy error, TeraCopy will try several times and in the worse case just skips the file, not terminating the entire transfer.
Interactive file list. TeraCopy shows failed file transfers and lets you fix the problem and recopy only problem files.
Shell integration. TeraCopy can completely replace Explorer copy and move functions, allowing you work with files as usual.
Full Unicode support.
La versione pro di TeraCopy, che ci costerà un esborso di circa 15€, vanterà di alcune funzionalità aggiunte, come la possibilità di rimuovere i file presenti nella coda di copia ed ovviamente un maggiore supporto da parte del produttore.
Una volta installato TeraCopy sostituirà il copier di Windows in maniera automatica, tuttavia è possibile disattivare questa funzionalità dalle opzioni del programma.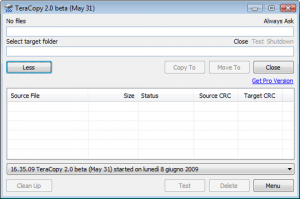 Il download è disponibile a questo indirizzo.
Provatelo, è spettacolare 😉